Grow Rainbow Mixed, Swiss Chard from freshly harvested Beta vulgaris vegetable seeds. This mixture of Swiss Chard will produce red, pink, white, yellow and orange stalks with dark green leaves above. Each stalk will mature to roughly 10 inches in length and the plants grow to a mature height of about 16 to 20 inches tall. Swiss Chard, also referred to as a leaf beet, can be enjoyed raw in salads or cooked as well. The leaves of Swiss chard are mainly used as a spinach substitute and if cooked, they will give off a milder flavor.
Categorized as a beet, chosen for its tender green foliage, all Swiss Chard varieties are descendants of Beta maritima, also known as "Sea Beets." The Sea Beet is wildly grown along the shorelines of the Atlantic and Mediterranean coasts of Europe. This popular heirloom dates back to the 16th century, however they were not commercially used until the 19th century. Grown both as a ornamental plant and as a food source, Rainbow Mixed Swiss Chard will establish itself for a single season, as an annual. Once harvested, the plants will die soon after.
This particular Swiss Chard variety will be ready for harvest in roughly 30 to 60 days. About 30 days for baby sized Swiss Chard & roughly 60 days full a mature sized harvest.
Swiss Chard seeds can be sown either indoors, or directly outdoors. If started indoors, begin by soaking the seeds in hot water for roughly 20 minutes. Next, sow the seeds in peat pots, at a depth of 1/2" under topsoil, 6 to 8 weeks prior to the last frost. Transplant entire peat pots or direct sow outdoors after all danger of frost has passed. Check "Germination & Growth" for spacing specifications.
Swiss Chard will do best in an area of full sunlight, however they will tolerate a bit of light shade. Temperatures should be around 60F to 70F for optimal germination and growth. Provide a rich, moist soil with a pH level between 6.0 and 6.8, just make sure that the medium is well drained. To increase drainage, we recommend adding a light compost to areas containing hard, compact soil. This will also aid in preventing diseases to the leaves. Water daily with a light setting, never allowing the soil to completely dry out.
Swiss Chard seeds will begin to sprout open in roughly 7 to 14 days after sowing. The plants will grow to a mature height of 20 inches tall, producing 10 inch stalks in colors or red, yellow, orange, pink & white. Sow seeds 4 inches apart from one another, in rows spaced about 12 to 18 inches apart. It might help to sow 2 seeds together, plucking the weaker of the two once established.
Clip baby leaves 30 days after first sprouts appear, or clip adult leaves roughly 60 days after first sprouts. New leaves will establish, producing multiple harvests through the spring, summer and fall months. All thats left now is to enjoy the delicious greens of this popular heirloom Swiss Chard.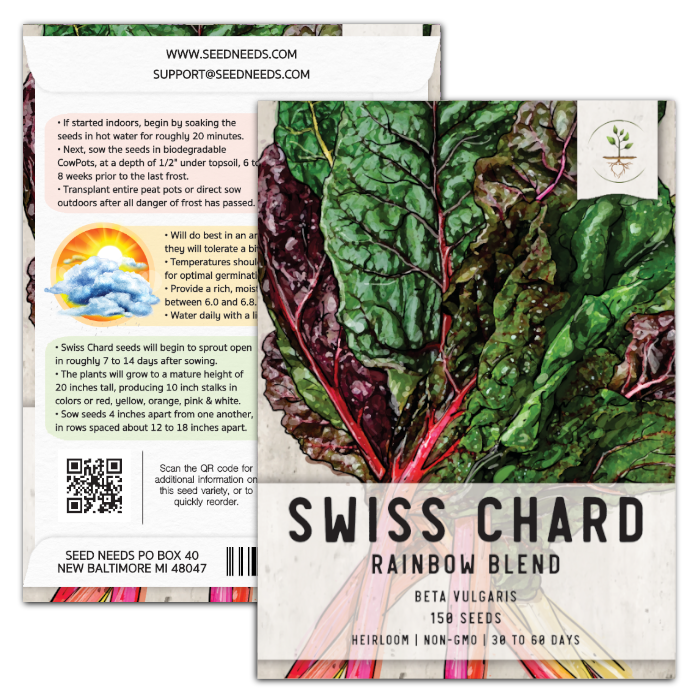 Front Side

Seed packets by Seed Needs are beautifully illustrated and provide a colorful depiction of the variety inside. We provide the common name, as well as the scientific name, seed quantity and a few specs about the variety to be grown.
Back Side

Each packet contains full growing instructions on the reverse side. Specifications on sowing the seed, growing conditions such as sunlight and moisture preferences and germination and growth information can be found as well. We also provide a QR to scan for easy reordering.
Always Non-GMO / Untreated.
Stored in a temperature controlled facility that's free of moisture.
Always packaged for the current and the following growing seasons.
True to the varieties advertised.
99% pure seed with no added fillers.
Always Non-GMO / Untreated.
Stored in a temperature controlled facility that's free of moisture.
Always packaged for the current and the following growing seasons.
True to the varieties advertised.
99% pure seed with no added fillers.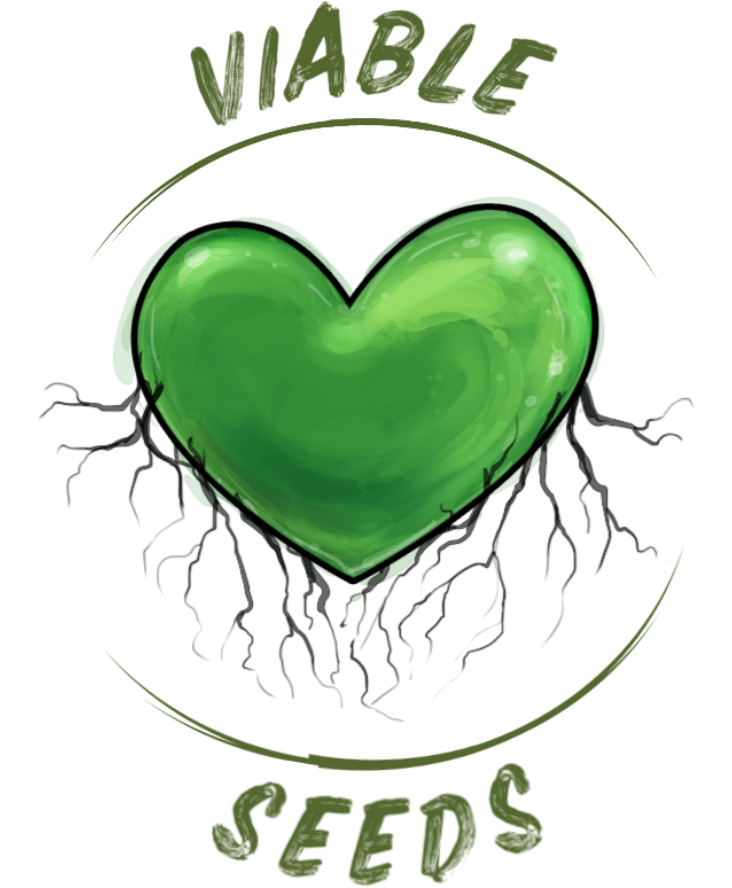 Always fresh and intended for the current and following growing seasons. Seeds are packaged in water resistant / tear resistant packaging.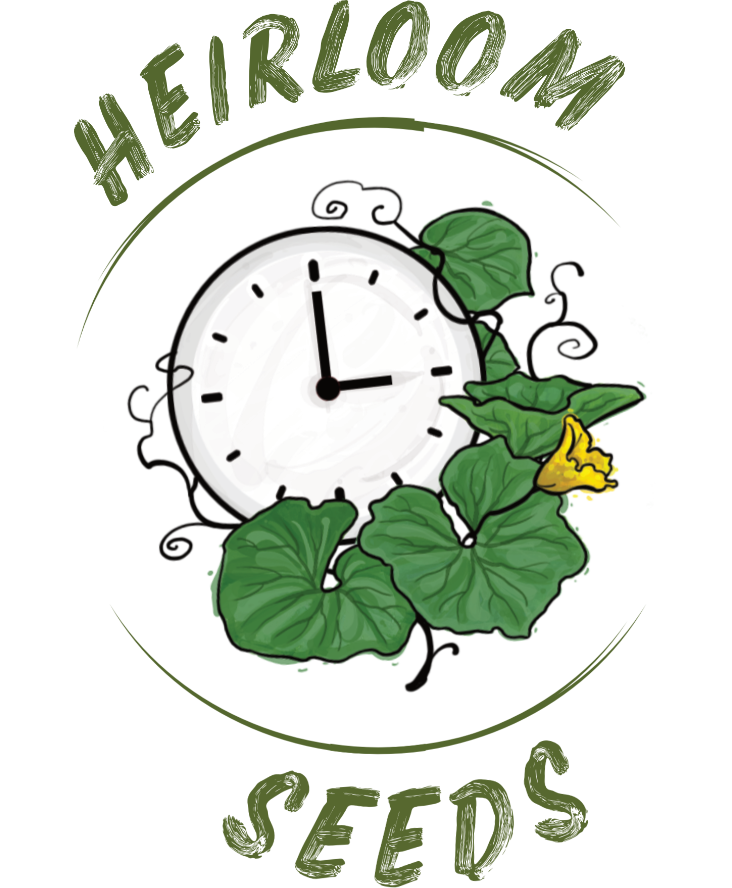 Heirlooms are varieties that have been purposely bred, selected and passed down from generation to generation. They are wholesome picks that will breed true to the parent seed every time.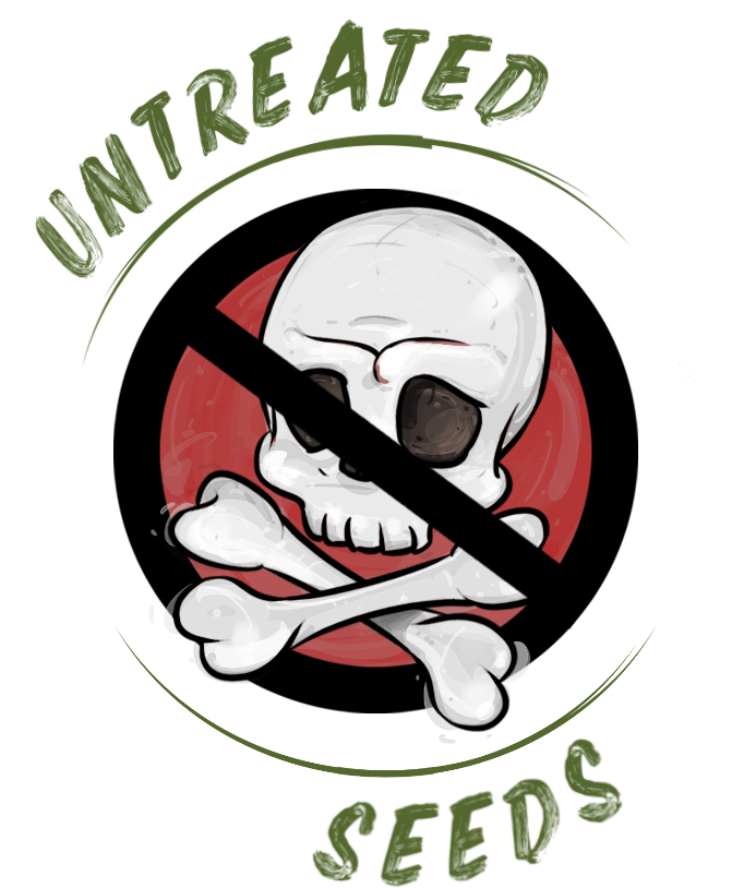 Seed Needs never knowingly purchases treated seeds products. We also do not treat any of our seed products with substances such as neonicotinoid or thyram.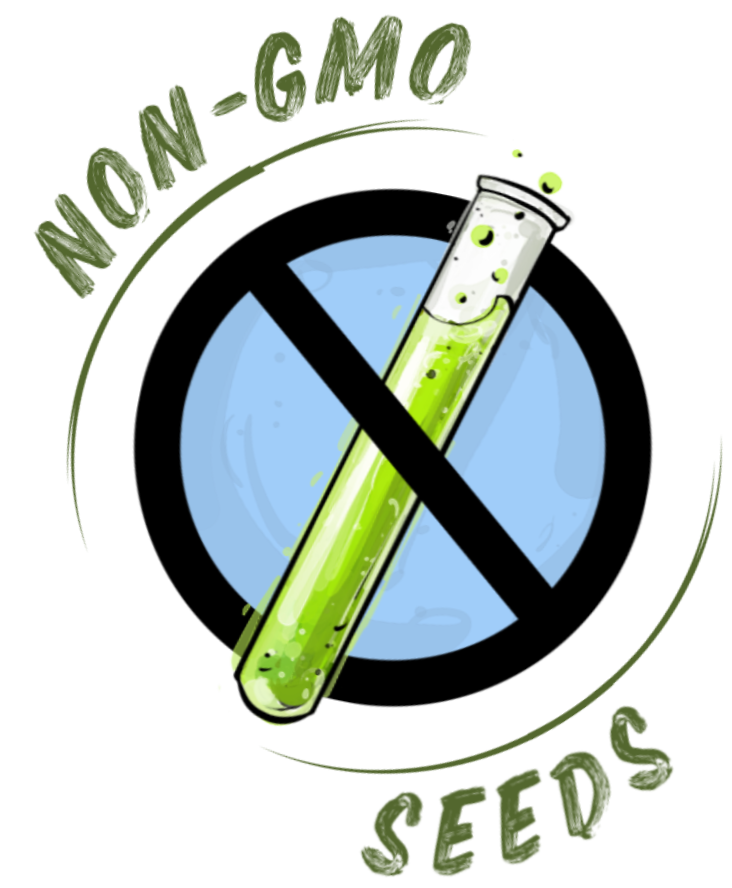 Seed Needs promises to never knowingly purchase or supply genetically modified seed products. We take the Safe Seed Pledge!
A SEED COMPANY ON A MISSION FOR CHANGE
Seed Needs has been providing gardeners with quality seed products since 2010 and has shipped millions of packets to happy customers all over the US. We offer flowers, herbs, vegetables, vines, wildflower blends, seed packet collections and seed packet favors.
With the success of our brand, we have kept our promise to continually donate to different organizations and personally sponsor children all over the globe each and every month. We grew our sponsorships from just 1 child to over 100 children worldwide in only a few years. We would like to sincerely thank all who support us because it wouldn't be possible without you!
Check out our charitable contributions!