Somniferum Poppies are a beautiful addition to gardens in temperate areas. The plants grow to a mature height of about 24 to 36 inches tall. The long stems are accented with light, greyish-blue leaves, which are attractively jagged-edged and often glabrous. The flowers are about the size of the palm of your hand and have four large, ruffled petals. There are sometimes dark spots at the base of the petals, ranging in various shades of purple. The centers are lime green and yellow, with a round button-like shape, surrounded by a lacy fringe.
Somniferum poppies are named that because they are descended from poppies that were once used to make opium, which made people sleep (somnolent). Because of this history, they are not allowed to be grown in some areas of the United States. (You should always check which varieties are not allowed to be grown, prior to purchasing.)
Grown as annuals in cooler regions, Somniferums will generously self-seed after all of its blooms wilt. In warmer locations, these beauties are categorized as a Tender Perennial and will return the following year if the winter temperatures aren't too cold. The seed pods crack open along the lines of the star shapes on top, and small round seeds will make their way to the bare ground beneath, allowing these beauties to sprout anew in the Spring. They will grow wherever the seeds are scattered if the growing conditions are right.
Somniferum Poppy plants will bloom for a few short weeks, up until the first frost. They are known to attract an array of beneficial insects to the garden, making them the perfect choice for many insectaries and butterfly gardens. The large, colorful blooms will lure in hummingbirds, butterflies, bumblebees and honeybees.
Poppies can be used as cut flowers, in both bouquets and floral arrangements. The only disadvantage to using them as a cut flower is that the blossoms only last for a couple of days. The candy colored blooms are beautiful in the garden, or in beds as a mid-range height flower. If there is enough room for a yard-round plant, they can grow along walks in sunny places. When the flowers die, the plants are still pretty; the seed pods look like balls with a ten-pointed star on the top and when dried, make attractive additions to dried flower arrangements.
The flowers in this mixture of seeds are white with magenta base marks, red with black, magenta with dark maroon, and a light mauve with black.
Type: Flower
Color: Mixture
Height: 24" to 36" Tall
Width: 10" Spread
Season: Annual / Tender Perennial
Zones: 3 to 9
Environment: Full Sun / Partial shade
Papaver somniferum seeds grow best with a period of stratification, 4 weeks prior to sowing. Somniferum Poppy seeds are also best sown directly outdoors, when the weather is warm and all danger of frost has passed. The root system of these popular flowers is pretty weak until they are matured, so transplanting is out of the question. Remove all unwanted plant life from your sowing area, turning the dirt, or replacing it with fresh soil. Sprinkle the seeds to the surface of the soil, on a calm day, making sure that no high winds can blow the tiny seeds away. Do not cover your Poppy seeds as they require light to germinate properly. Pat down the soil to keep the seeds in place.
Somniferum Poppy will enjoy an area of full sunlight in cool regions and partial shade in warmer regions. They thrive in temperatures of around 70F and don't like the heat of summer. The soil should be well drained and can be average to rich, although it prefers sandy soils most. Areas that consist of hard, compact soil will retain too much moisture, so mixing a light compost is recommended for improved drainage. Water daily, with a mist setting, allowing the seeds to receive an adequate amount of moisture, without drowning the seeds.
Your Somniferum Poppy seeds will begin to germinate within roughly 7 to 21 days after sowing. The plants will reach a mature height of 24 to 36 inches tall, and can be spaced about 6 inches apart. Somniferum Poppy plants are best established by the masses. Sowing a large sum of seeds within a small area will result in a beautiful sea of red, pink & purple blooms. Allow the seed pods to dry out during the late summer / early fall to establish new plants the following season, from seeds that will fall to the bare ground beneath.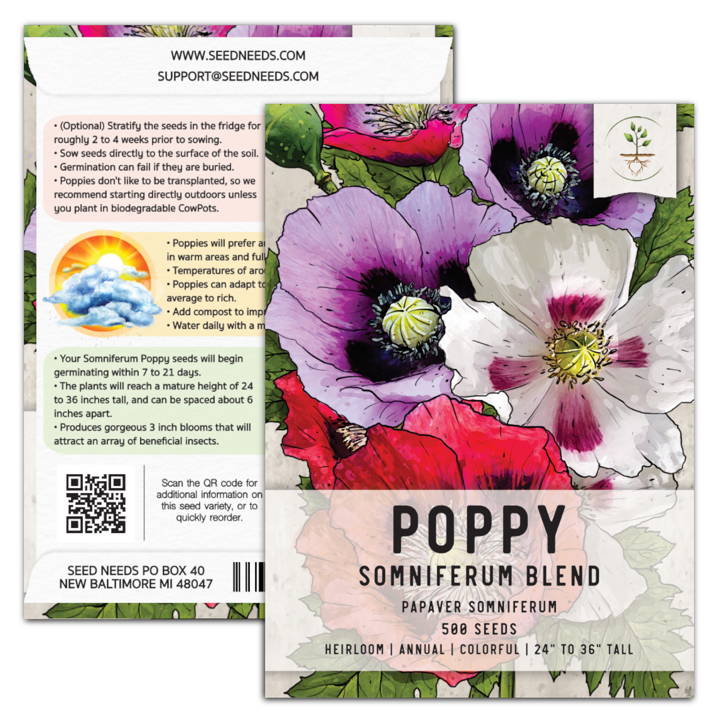 Front Side

Seed packets by Seed Needs are beautifully illustrated and provide a colorful depiction of the variety inside. We provide the common name, as well as the scientific name, seed quantity and a few specs about the variety to be grown.
Back Side

Each packet contains full growing instructions on the reverse side. Specifications on sowing the seed, growing conditions such as sunlight and moisture preferences and germination and growth information can be found as well. We also provide a QR to scan for easy reordering.
Always Non-GMO / Untreated.
Stored in a temperature controlled facility that's free of moisture.
Always packaged for the current and the following growing seasons.
True to the varieties advertised.
99% pure seed with no added fillers.
Always Non-GMO / Untreated.
Stored in a temperature controlled facility that's free of moisture.
Always packaged for the current and the following growing seasons.
True to the varieties advertised.
99% pure seed with no added fillers.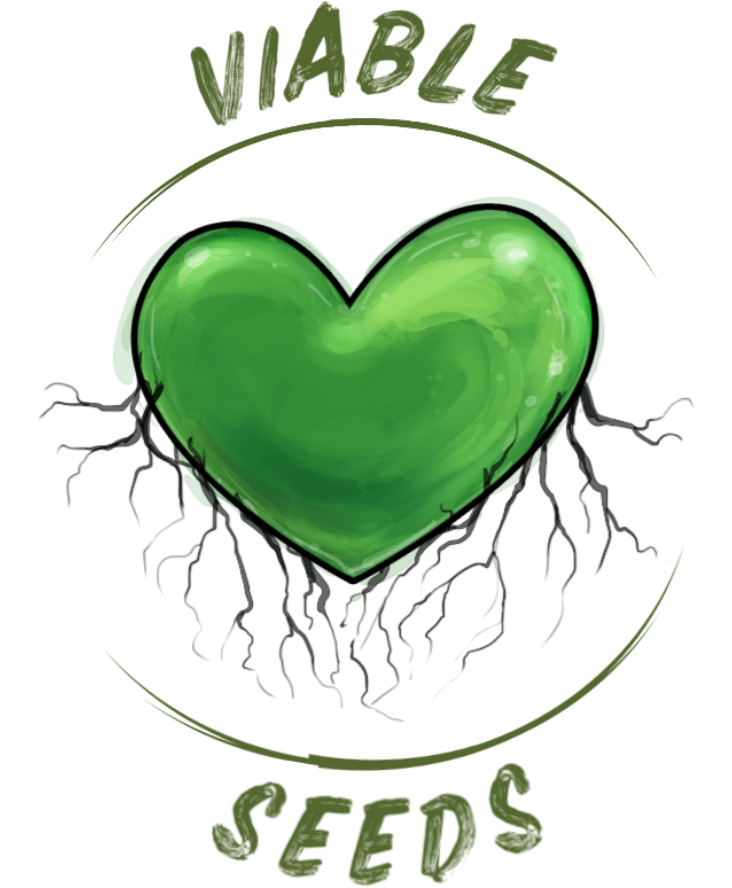 Always fresh and intended for the current and following growing seasons. Seeds are packaged in water resistant / tear resistant packaging.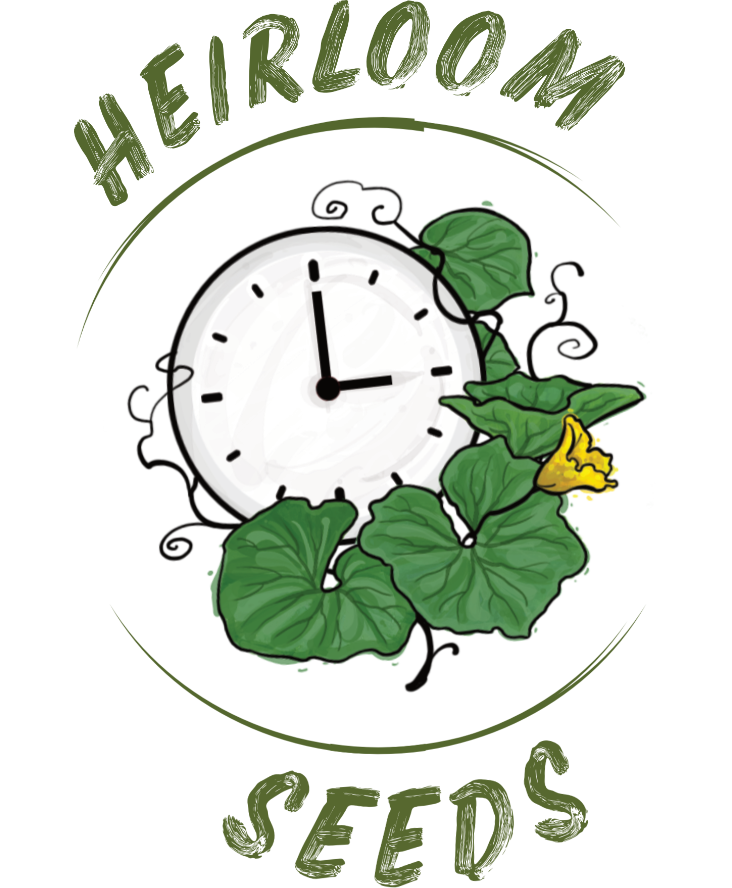 Heirlooms are varieties that have been purposely bred, selected and passed down from generation to generation. They are wholesome picks that will breed true to the parent seed every time.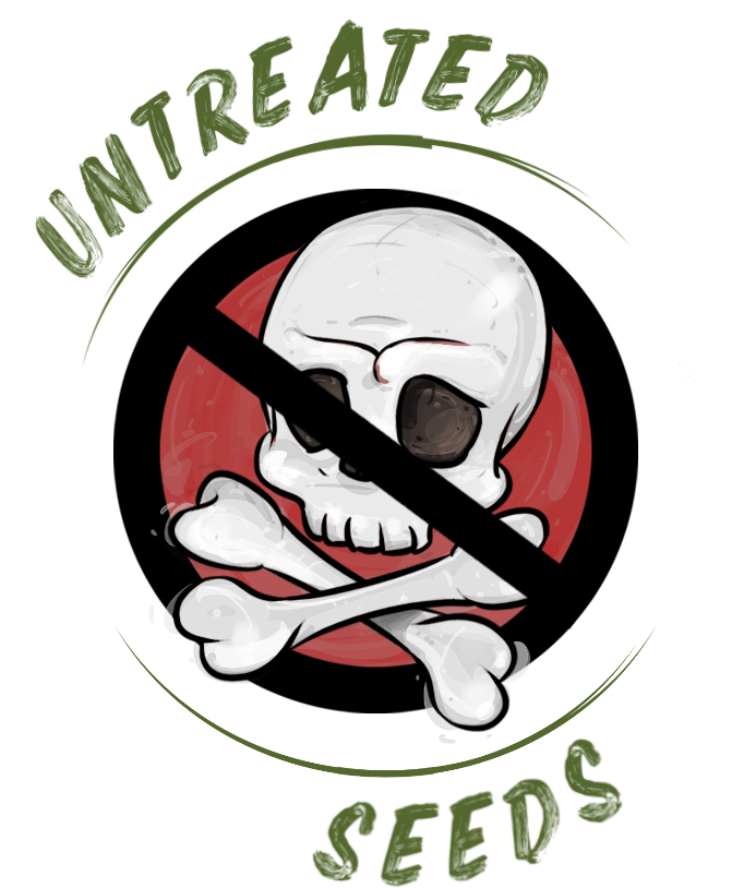 Seed Needs never knowingly purchases treated seeds products. We also do not treat any of our seed products with substances such as neonicotinoid or thyram.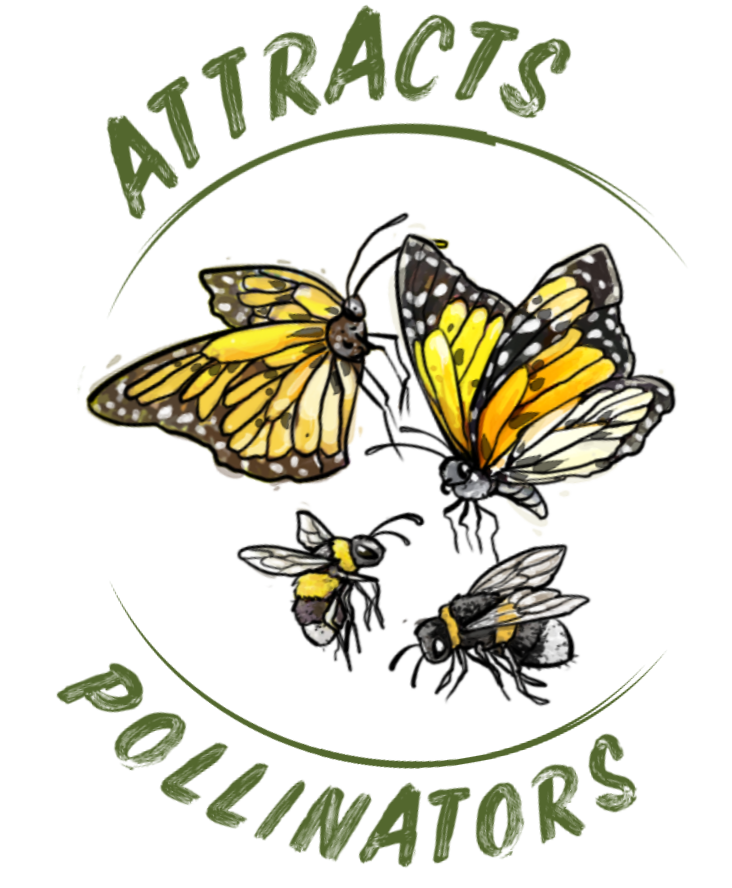 Flowers will attract all sorts of beneficial insects to the garden, such as butterflies, bumblebees, honeybees and ladybugs.
A SEED COMPANY ON A MISSION FOR CHANGE
Seed Needs has been providing gardeners with quality seed products since 2010 and has shipped millions of packets to happy customers all over the US. We offer flowers, herbs, vegetables, vines, wildflower blends, seed packet collections and seed packet favors.
With the success of our brand, we have kept our promise to continually donate to different organizations and personally sponsor children all over the globe each and every month. We grew our sponsorships from just 1 child to over 100 children worldwide in only a few years. We would like to sincerely thank all who support us because it wouldn't be possible without you!
Check out our charitable contributions!